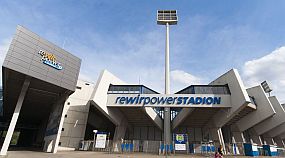 REM 2015 — Venue
The 16th International Conference on Research and Education in Mechatronics REM2015 was held at the
rewirpower-Lounge
of the VfL Bochum — the football club (soccer for Americans, only).

Address (navigation): rewirpower-Stadion, Castroper Straße 145, 44791 Bochum
Tram 308 station: rewirpowerStation; accessible via Küppersweg, too.

This conference proven location is quite near to the city of Bochum. Its just a 20 minute foot-walk (1.6 km) or a two station tramway ride (6 minutes; line 308; every 10 minutes).

Get together
At Wednesday evening (November 18th) we met REM2015 delegees at the
Café Konkret, Kortumstraße 19 (crossing Bermuda3eck you'll find a vast selection of bars, restaurants and cinemas for diner and entertainment there and nearby.

Conference dinner
The location for the conference diner has been Heinrichs at Henrichshütte Hattingen, Werksstraße 31-33. We had transfer busses, but some got there by car or by tramway line 308 — same as for the conference venue, 32 minutes ride w/o change from there — with a sportive 1.9km walk along Galerie from/to station Bahnhofstraße, Hattingen.


Source (four photos): Stadt Bochum, Presse- und Informationsamt.

The town
Here, in the 9th century Charlemagne set up a royal court at the junction of two important trade routes, and may hence be considered Bochum's founder. It was first officially mentioned in 1041 as Cofbuokheim. In 1321 Bochum became town. It's raise began in 19th century, when the coal and steel industries emerged in the Ruhr area. The population of Bochum is about 370 000 inhabitants now.

After the war, Bochum began developing as a cultural and scientific centre of the Ruhr area. In 1965, the Ruhr University was opened, as the the first university to be founded in Germany since World War II. 1972 the University of Applied Sciences was founded as Fachhochschule Bochum.

Since the seventies, Bochum's industry has moved away from heavy industry to other sectors. Between 1960 and 1980 all coal mines all closed. Other industries compensated for the loss of jobs. The most important was the erection of Opel's Bochum plant in 1962, being the biggest new industrial site in Europe then. However a bit more than 50 years later, General Motors closed the Bochum Opel factory by end 2014.

The more important is Bochum's growing role as City of Science, with innovative new companies, now some seven universities and interesting congresses.